After weeks of speculations and hours of talks, Kevin Durant has decided to take his talents to The Bay. Durant is expected to sign a two-year, $54.3 million contract with the Golden State Warriors, sources told ESPN's Marc Stein. This "decision" has sparked numerous debates, opinions, and backlash of whether HIS choice to leave OKC, a team with whom he has made the finals with,is making moves to add pieces in the off season, and coming off a blown 3 game lead in the Western Conference finals series to the said team that defeated him and the Thunder.
Several years ago, after LeBron James had his ESPN special "The Decision" where he announced to the sports world he was taking his talents to South Beach, Kevin Durant posted a tweet about how too many players are trying to stack teams.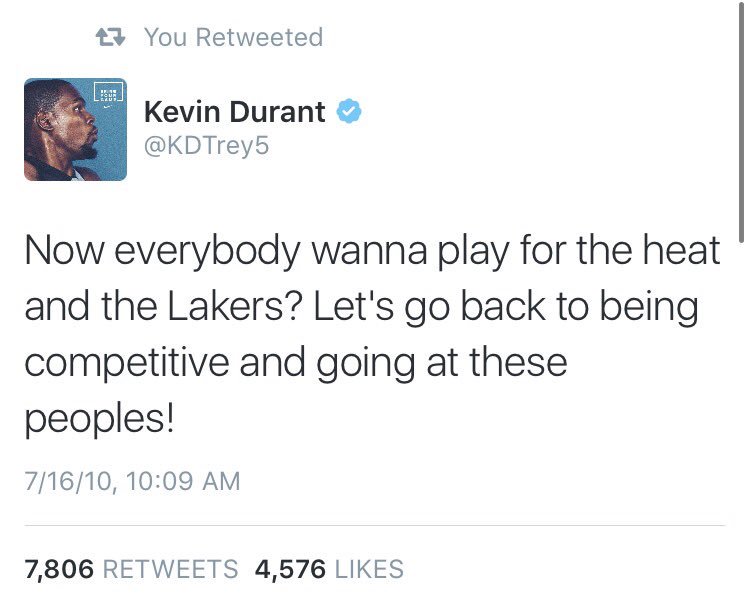 This choice of words and now contradictory action has him under fire. Durant has received similar outrage but not to the same extreme nor for the same reason. James who joined a team who didn't even make the the previous season was, scrutinized more so for the "show" than the act. While Durant who was more respectful and subtle with his announcement, received heat for the opposite reason. He joined the defending champs, whom he just lost to months ago and who were within One Game of winning a second NBA title. Most agree leaving OKC was the right move, going to the team whom he most recently lost to, has painted him as weak minded, and pride-less from Facebook memes to Twitter rants.
Durant, being one of the few superstars who had yet to leave the team he started with since his rookie year, had made a name for himself and drew not only huge crowds, but also young talent. Being a 9 year vet and a force on the court, It was obvious that the team was being built around him. The Thunder had made a move to acquire Victor Oladipo from the Magic via trade of Serge Ibaka. While great at the defensive end Ibaka was inconsistent on the offense side of the ball and this is where The Thunder believed Oladipo could make the difference while maintaining a tough defense presence.
I believe that Durant knows what he wants and what he is trying to accomplish. There are some things that people will never understand or care about when it comes to what's best for other people. So his decision was right because it was his and his alone. Let people talk. Let people gossip. Because at the end of the day, Their gonna talk aways. Give them something to talk about and make the best of it.